Photo Editing App for iOS
Auto Retouch – Selfie Editor for iPhone/iPad
This is one of the many features of the amazing Selfie Editor application. On this app, this feature offers you the opportunity to retouch your photos. That is, to make them more beautiful by adding slight and fascinating touches to it. This amazing picture editor application offers you the opportunity to choose from a long list of picture editor effects. One of the interesting things about this faceapp is that you do not have to wear makeup while taking photos, all you would have to do is use the beauty plus feature which will totally transform your images into something mind-blowing.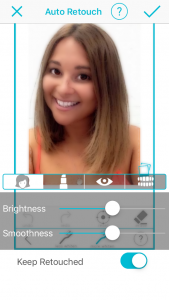 This application comes with the Camera360 feature which allows you to set a timer for your pictures, thus, making them more captivating and aesthetic. The makeup filter comes with additional items like; rings, hairbands, necklace, crowns, glasses, etc. These additional accessories are incorporated into the app in such a way that others will not believe you didn't wear them before taking the photos. Once you have edited your photos with the auto retouch feature that is capable of making you look more appealing, you can share those amazing pictures with your friends and loved ones on social media.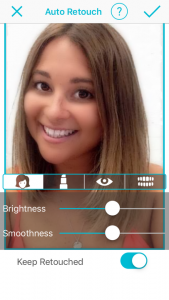 The auto retouch feature of the Selfie Editor app is used to alter the foundation of an image, thus, ensuring that it becomes more attractive and appealing to the eyes. Unlike most of the retouching systems, the auto retouch feature incorporated into this photo editor app does things in an instant. You do not have to manually do it, all you have to do is tap the "Retouch" button. Some of the core aspects of auto retouch include but are definitely not limited to these; removal of photo background, enhancement of photo, general photo edit, adding effects to photos, photo masking, and changing from raster to vector. When you download this app, you lay your hands on one of the finest face editor applications that have been developed. Interestingly, it comes with a video editor feature. This feature will allow you to take and edit unforgettable memories which can be shared with your loved ones.